If you want to make money online, you're in the right place.
I've self-published over 5 best Amazon bestsellers in the past few years. And they make me upwards of $1000 per week.
Now, this is an easily repeatable process that I've taught to many other guys. So I know it works. I also know that there are several BIG pitfalls you need to avoid.
In this article, I'm going to give you 3 key steps you ABSOLUTELY MUST follow if you want to make money self-publishing on Amazon.
Plus, I'm going to show you real-life examples of every single step, so you know exactly what to do. These examples are all from a recent student of my Passive in 30 course, and his bestselling book launch.
#1: Validate Your Book Idea
The first key step to making money on Amazon, is to make sure you have a profitable idea for your new book.
Obviously, you need to come up with some potential book topics before you "validate" anything. The best way to do this is think about your expertise: what do people frequently come to you for advice on?
My student, Dave Perrotta, is a dating coach for men in their 20s. Given this expertise, he brainstormed a quick list of potential books ideas to help guys meet women, have better conversations, and get more dates.
The next step is to figure out which idea can sell the most copies. In order to do this, you should conduct the following 2 "validation" tests.
Test #1: General Validation
The first step is to narrow the list down. You need to find your best 2-3 ideas.
The most effective way to do this is to conduct a quick survey. You can easily create a free survey using a website like Survey Monkey.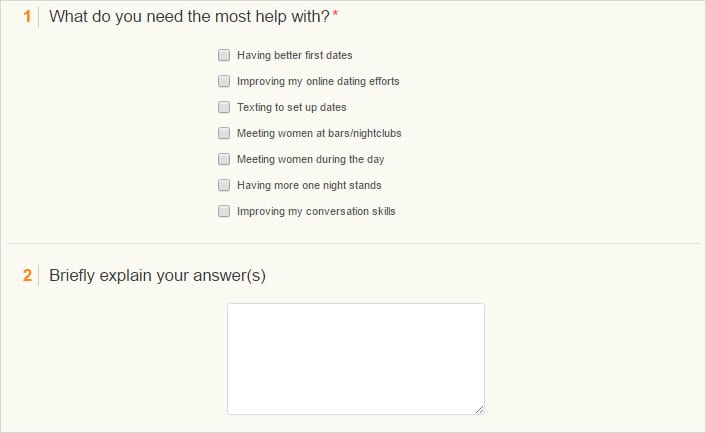 Dave created this quick survey and sent it out to all of his male friends in their 20s (guys who are similar to people who might buy his book). He also sent it to his email list from his website (PostgradCasanova.com).
If you have an email list, this is an easy way to get more responses, but it's not required.
Test #2: Specific Validation
After you get your survey results back, you'll probably have 2-3 topics that did better than the rest (obviously if there's a clear winner, just go with that).
In order to select the best topic, answer these 2 questions:
Which of these ideas solves the most "painful" problem
Which of these ideas applies to the biggest demographic
The more "painful" the problem, the more likely people will be willing to spend money to solve it. And the bigger the demographic, the more potential customers there will be.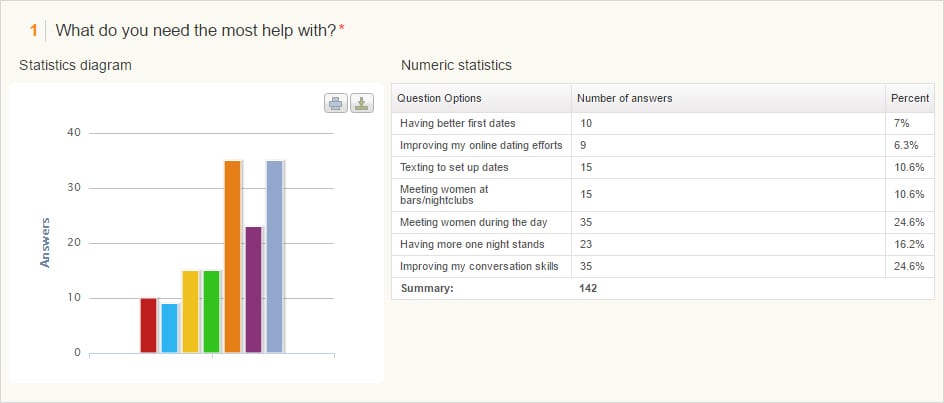 Those are the results from Dave's survey. Let's break down the top 2 answers:
Meeting women during the day:

Pain: low – you always have other options like dating apps
Audience size: this one applies mainly to guys who don't like nightlife

Improving conversation skills:

Pain: high – if you can't hold a conversation, every situation will scare you
Audience size: this one applies to nearly every guy who struggles with girls
As you can see, the second option clearly wins out. It solves the most painful issue and it applies to the largest audience.
#2: Write the Damn Book
I can't even count how many guys I know who wanted to write a book, and then quit after only finishing the first few chapters.
It's easy to doubt yourself here. Writing a book seems like a HUGE project. But in reality, it's not so bad.
When I'm working on a book, I average 3000 words per day. Sure, I may be a fast writer, but if I can write a 30,000 word book in 10 days, it shouldn't take you more than a month.
After talking with many of my students, it seems that the biggest key to actually getting started writing your book is to create an outline. Just list out everything you want to cover in the book, then divide it into easily digestible chapters.
If you're explaining a process, each chapter should be a small step
If you're giving general advice, each chapter should be a small point you want to make
Don't worry about go into too much detail here. Once you have a simple 1-page outline in front of you it will give you the confidence you need to get moving.
Here's a copy of Dave's initial outline for his book on conversation. When I asked him if he had any advice for students struggling to complete their books, here's what he said:
" Just think about how much you've already put in to it. The more and more time I invested into writing my book, the more I knew I had to get it done. I didn't want to waste all that effort."
#3: Make Sure You Get Sales
For most guys, this is going to be the single biggest doubt: "What if I go through the trouble of writing an entire book, and then it doesn't sell?"
Remember, if you validated the idea, there will be at least some demand for your book. You also want an eye-catching cover and a strong title, but the majority of your book's success will come down to how you launch it.
You can't just hit the "publish" button and expect people to buy it.
Just like with any online business, you need to promote your product. The key is to price the book at 99 cents for the first week, and then let as many people know about it as possible. For such a low price, anyone who is even remotely interested in the book will pick up a copy.
So how do you get the word out? Here are a few easy ways that work well:
Basically, do anything in your power to let people know about the 99 cent promotion.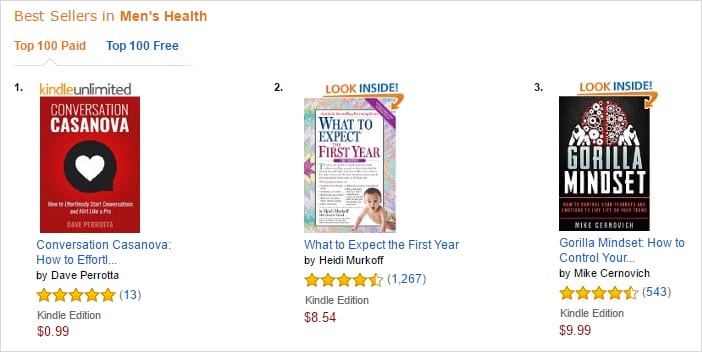 This was enough to get him the #1 spot on the Men's Health bestsellers list.
(By the way, click here to check out his book on Amazon, in case you want any other details.)
This should be your goal (to get your book on the bestseller list in whatever category you selected). This will give it a lot of visibility on Amazon, and ultimately will lead to organic traffic (and sales) from people who are browsing similar books.
What Results Can I Expect?
Let's take a look at the success of Dave's book to give you an idea.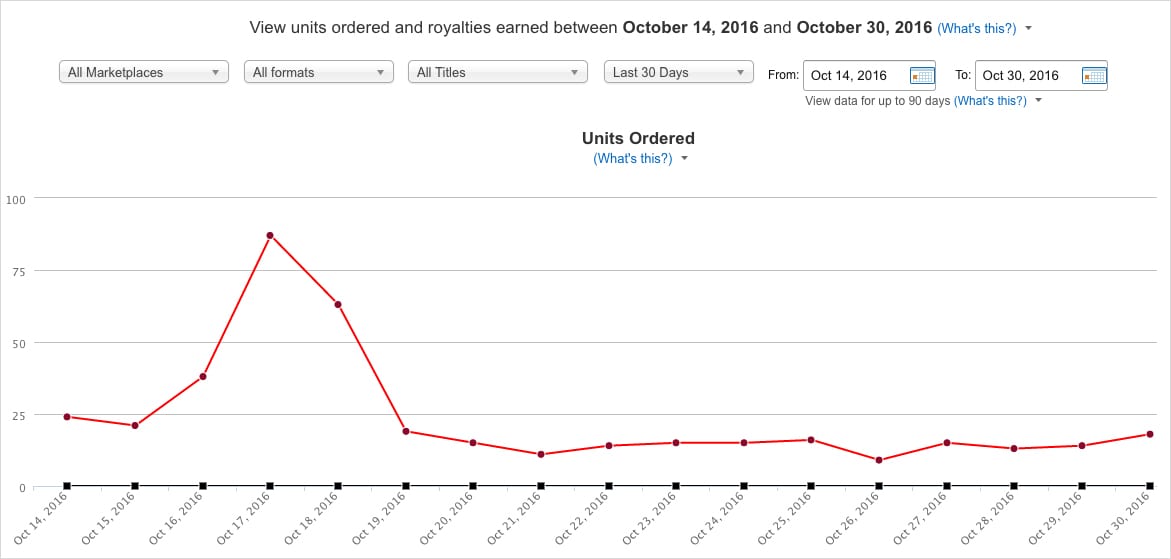 As you can see, he got a lot of sales during his 99 cent promotion (over 85 on his best day). The sales dropped off after he raised the price to $4.99, but he's still averaging 15 per day.
How much is that per week in revenue?
$4.99 X 15 copies = $74.85 per day
That's $523.95 per week (minus Amazon's 30% commission) = $366.77 per week in profit
Plus, it's led to a lot of growth for his email list. Check out the graph below to see how quickly he's been getting new subscribers since the launch. This is HUGE because these are all paying customers who are likely to buy any future books you release!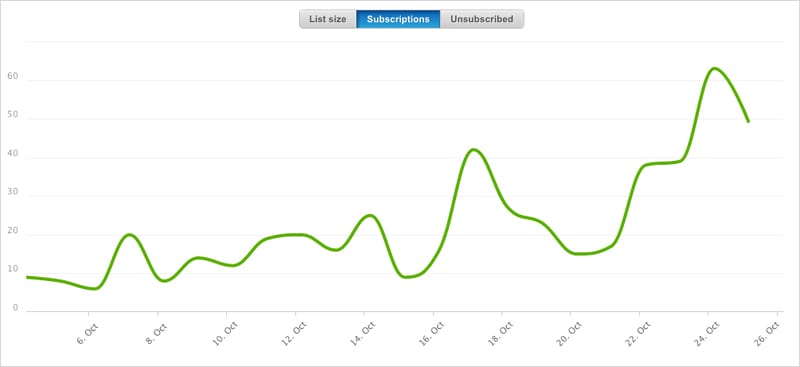 But here's the magic: assuming your launch went as planned, your work is completely done! Amazon will now take over and continue to promote and sell the book for you.