If you want to build a simple wardrobe that kicks ass, you're in the right place
In this article I'm going to share 10 minimalist wardrobe essentials every man should have. These are all basic, yet sleek items you can easily match with a variety of outfits.
Whether you're heading to a casual weekend brunch, a first date, or a night out in the city, these 10 clothing items have you covered.
Browse the list, see what catches your eye, and pick 2-3 items to add to your wardrobe.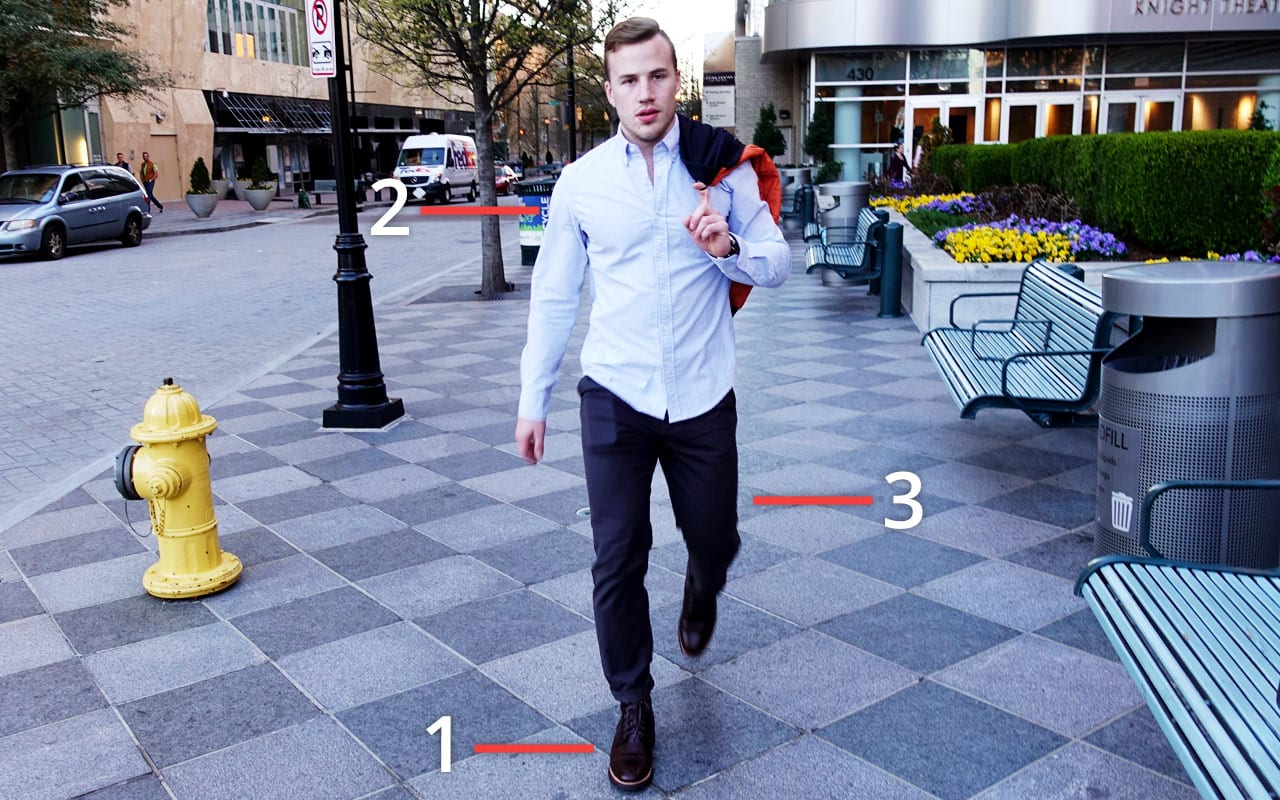 #1: Brown Boots
Every dude should own a quality pair of brown boots.
Pair them with slim chinos (pictured above) for a more refined look. Or go with some jeans (see #8 below) if you want to keep it casual.
A good pair of boots can essentially replace the need for dress shoes in most occasions. When I'm traveling, I only pack these (and some sneakers) and I'm good to go.
What I Wear: Thursday Boots Captain Boot
#2: Oxford Shirt
Be honest, how many button-down shirts do you own? And how many of them do you actually wear?
Most guys have a closet full of dress shirts, but they only use 2 or 3 of them. Rather than weighing yourself down (and emptying your wallet) on countless random button-downs, you should select 1 or 2 you can wear with lots of different outfits.
My #1 go-to is the classic oxford blue shirt you see above. In addition to that, I think every man should own a basic white button-down as well.
What I Wear: J Crew Slim Fit Oxford
#3: Gray Chinos
Most dudes have a solid pair of jeans, but very few have a well-fitting pair of chinos.
But when you're heading to a trendy nightclub, a high-end restaurant, or just your regular desk job, you should have some pants that actually look good.
I highly recommend the Commission pant by Lululemon (link below) because they don't get wrinkled, have a little stretch (for all you guys who hit the squat rack)… plus they just look really good.
What I Wear: Lululemon Commission Chino Pant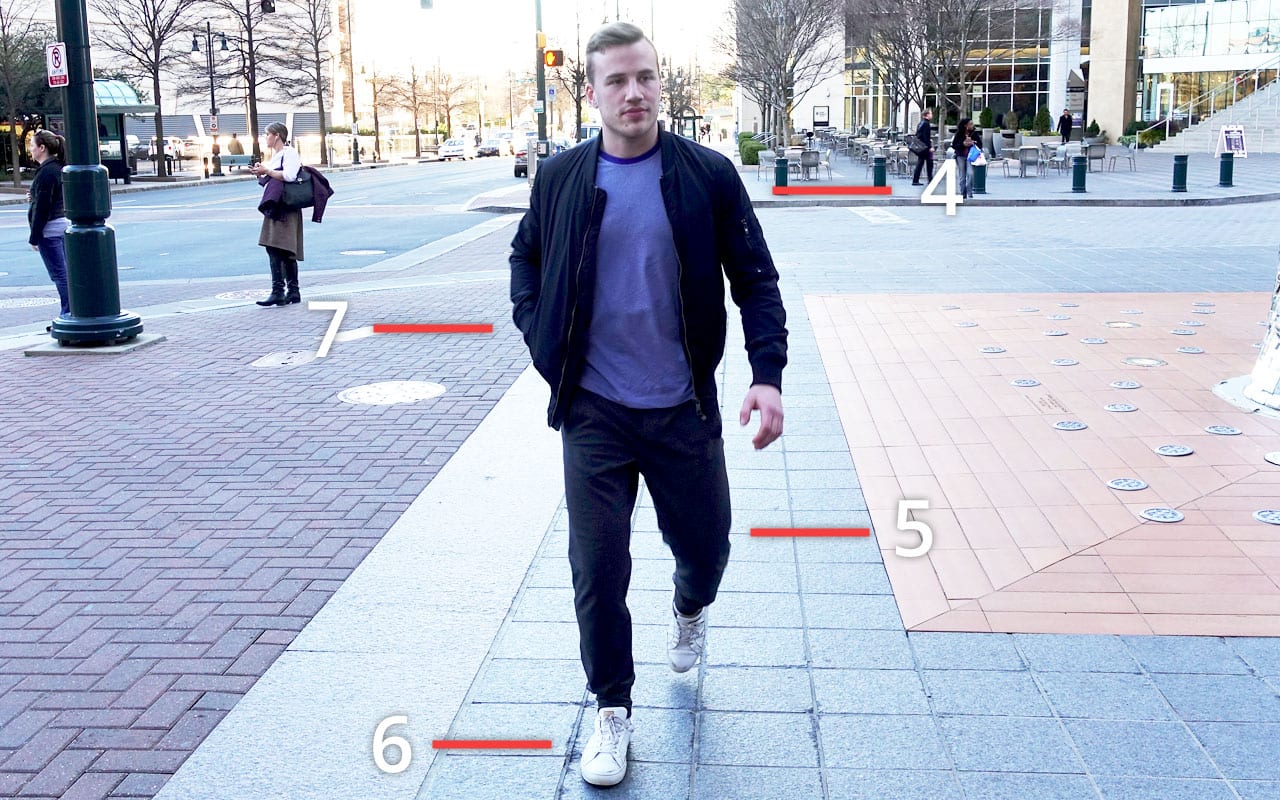 #4: Bomber Jacket
Bomber jackets are probably my favorite piece of clothing. They go well with a super casual outfit (like the one above), but can also be used to achieve a slightly more formal look (see below).
When it comes to the color, I prefer navy or black, but I've seen some cool bomber jackets in tan and green as well.
I got both of mine from Zara for about $50 each, which is very cheap given their relatively high quality. Check out the link below to see their collection.
What I Wear: Zara Bomber Jacket
#5: Joggers
I literally LIVE in Lululemon joggers! This is because I'm lucky enough to work from home…
But as long as you're not going somewhere with a dress code, you can still wear joggers and look pretty damn fly. Personally they're my pants of choice for traveling, chilling with friends, walking to the gym, or even grabbing a quick bite to eat at most restaurants.
Again, I have to recommend Lululemon here. They're not cheap, but they look good, feel amazing, and last for years of heavy use.
What I Wear: Lululemon Intent Jogger
#6: White Leather Sneakers
I love a dope pair of Adidas or Nike sneakers just as much as the next guy… But they don't look very "refined" for most occasions.
Instead, I usually wear a simple pair of white leather sneakers like you see above. They look awesome with jeans, joggers, or even shorts.
I highly recommend the ones made by Greats (link below). My pair have held up for over a year of VERY heavy use!
What I Wear: Greats Royale
#7: Quick-Dry Shirt
If you're someone who travels a lot, you need a t-shirt you can wear several times without having to wash it.
For this purpose, I also swear by Lululemon. Their "Metal Vent" T-Shirts (link below) are made of a material that is basically smell resistant. Even if I sweat a bit, they never get smelly.
Now, these cannot be used in formal situations, but they make an AMAZING shirt for everyday activities. And, of course, they're perfect for working out.
What I Wear: Lululemon Metal Vent Long Sleeve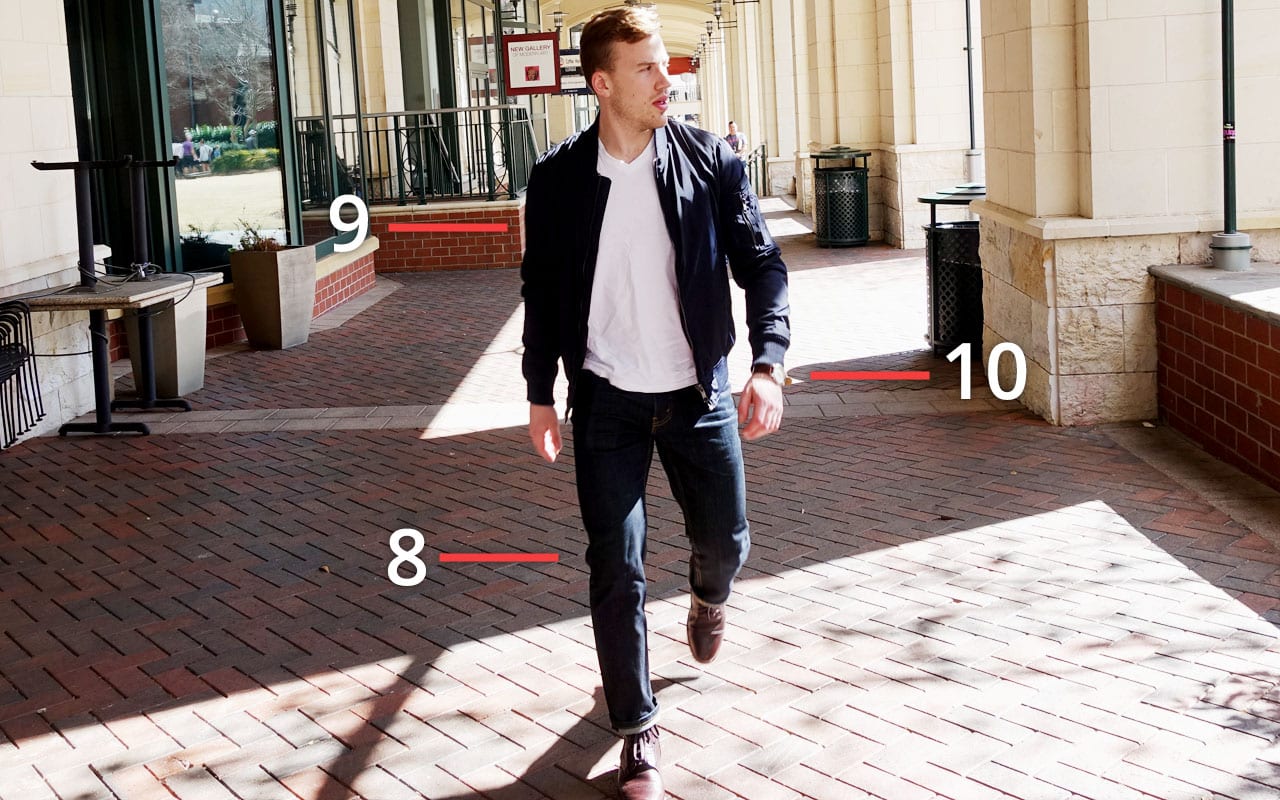 #8: Dark Jeans
I only own ONE pair of jeans. I use them until worn out, then I replace them.
Unless you really love jeans, I recommend you do the same. Just make sure you get a darker pair. Darker jeans are FAR MORE versatile than any other wash. They go great with literally every outfit you can think of.
I recommend Levi's because they offer a huge variety of styles and fits. I wear the 541 (link below) because they have a more "athletic" fit that suits my huge ass (too many squats).
What I Wear: Levi's 541 Athletic Fit Jean
#9: White T-Shirt
The amazing thing about a well-fitting white t-shirt is that it looks amazing under nearly any jacket.
Whether I'm rocking a bomber (see above), or something nicer like a pea coat, I frequently just wear a simple white t-shirt underneath. In my opinion, it really makes the rest of the outfit stand out and look better.
There are a lot of different neck styles and lengths these days, but I usually stick with something simple like the J Crew shirt linked below.
What I Wear: J Crew Slim Washed T-Shirt
#10: Versatile Watch
I own a few watches, but the only one I ever wear is my cheap Timex Weekender (link below).
It's a simple white-faced watch with a brown leather strap. And it looks good with almost everything I wear, from casual to formal.
If you're not a watch-snob, I don't recommend getting anything more expensive that this basic watch.
What I Wear: Timex The Weekender