A Proven, Step-By-Step Guide to Build Alpha Male Confidence in Just 28 Days

Learn the Exact System I Used to Boost My Self-Esteem, Overcome the Fear of Rejection, Develop a Laser-Like Focus on My Goals, and Get Super Fit
Far too many men are held back by confidence issues, social anxiety, a lack of a physical exercise, and a failure to take action on their goals.
Take 5 minutes to read the rest of this page and I'll reveal exactly what I did to overcome these issues, exit a deep depression, get in phenomenal shape, start dating more girls, and forever transform my life…
Build Confidence
Your self-esteem determines how successful you'll be in your career and your relationships – inside you'll find an easy system to walk with the kind of confidence people notice from across the room
Become Fearless
Learn a step-by-step process to demolish the natural fears of failure and rejection that hold so many men back and prevent them from becoming the man they want to be
Get Jacked
Inside you'll find a simple routine that will rapidly burn fat and build muscle… using only your bodyweight… in less than 30 minutes… 3 days per week
Achieve Goals
Whether your main goal is to start your own business, date hotter women – or even if you don't have one – inside you'll use a simple method to quickly generate quality goals and actually start TAKING ACTION on them
What's 28 Days to Alpha All About?
Confidence is Everything. We're More Likely to Get the Girl We Desire, the Job We Want, and the Life We Deserve When We're Confident…
But unfortunately building confident isn't easy.
If it were, we'd all be crushing life, banging models, and making money hand-over-hand.
This is because when you ARE confident, everything falls into place. You say the right things. You believe in yourself. You're comfortable in your own skin. And everyone else can tell you're a fucking boss, too.
Inside you'll learn basic habits, tricks, and techniques to rapidly develop your self-esteem. And let's be honest, this is the single most important thing we can do to achieve the life we want.
The Fear of Rejection Prevents Most Men From Going After What They Want in Life.
Have you ever avoided approaching a girl you thought was really cute because you were afraid of getting rejected?
Have you ever stayed at a job you hated because you were afraid of what would happen if you quit?
Have you ever thought about starting a business, writing a book, or doing something awesome but then decided it wasn't worth it because you would probably fail?
If you answered yes to ANY of these questions then you're a victim of the fear of failure. And it's preventing you from living the life you really want.
No great man has ever attracted a hot woman, started a profitable business, or accomplished anything notable without looking failure in the eye… and then proceeding anyway.
Inside you'll implement several key habits into your life that will rapidly desensitize you to the fears of failure and rejection, so you can get out there and start fucking CRUSHING it.
When You Have a Strong and Fit Body, You Look Good and You Feel Good. Men Will Respect You. And Women Will Crave You.
How we look directly impacts how we feel about ourselves.
Getting in good shape is quite possibly the quickest way to build massive amounts of confidence.
Not only will you look and feel better, but your posture will improve too – and strong posture is the key to making other people perceive you as a confident and self-assured man before you even open your mouth.
Inside you'll learn a simple bodyweight workout routine to quickly burn fat, build muscle, and develop dominant posture. It can be completed at home or at the gym… in under 30 minutes… in only 3 days per week.
A Man Without a Mission Lacks Motivation. He's Susceptible to Depression, Anxiety, and Feelings of Worthlessness…
You hear it all the time: "you have to set goals."
And it's true. But it's not so simple…
Inside you'll find a step-by-step system to quickly brainstorm quality goals that you're passionate about and actually start taking action on them…
And this will bring a deep sense of purpose into your daily life that will motivate you and drive you forward in all aspects of your life.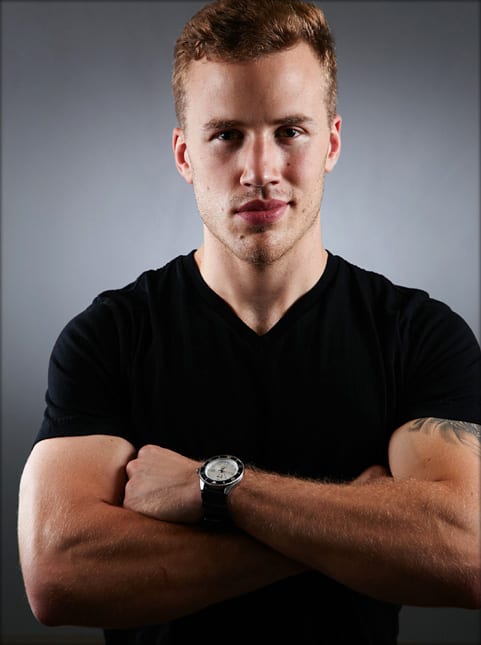 But Who the Hell Am I to Give You Advice?
My Name Is David De Las Morenas and I'm a #1 bestselling Men's Health author and the creator of HowToBeast.com.
Hell, I've even been featured in popular publications like Bodybuilding.com, LifeHack.org, and EliteDaily.com.
And while I could sit here and brag about all that, I'd rather talk about my personal transformation. You see, over the past 5 years I've changed from an insecure 'push-over' to confident man who goes after what I want in life.
I'm finally able to wake up everyday feeling happy and motivated. And I'm able to go through the rest of the day without worry about what other people think about me. I live my life on my own terms and I fucking love it!
And the best part? I accomplished all of this without following "traditional" goal setting techniques, dating systems, or self-help affirmations.
Before we get into all that, I want to share a little bit about myself…
Rewind to my college days – my insecurities ruled my life – I used to look down at the pavement as I walked to class, because I couldn't look anyone in the eye.
Worse yet, I spent most of my free time playing video games locked inside my dorm room.
The first weekend of my freshman year, I managed to bring a girl home. BUT I had no idea what to do next, so I told her to leave and gave up trying to get laid for the next 2 years.
I was so depressed that I suppressed my natural masculine desire to talk to girls.
And while I did get a good job after graduating, it wasn't doing something I actually enjoyed – it was just the first decent job I was offered.
I was doing what a lot of guys do. I was living life on autopilot. I was taking what was given to me and not pursuing anything more than that.
My post-grad life revolved around me sitting in a cubicle for 9 hours per day and then working out at the gym – before going home, watching Netflix, and going to sleep.
I had no goals. I had no sex. And I was NOT motivated to change any of that.
3 of my books on the Amazon bestseller list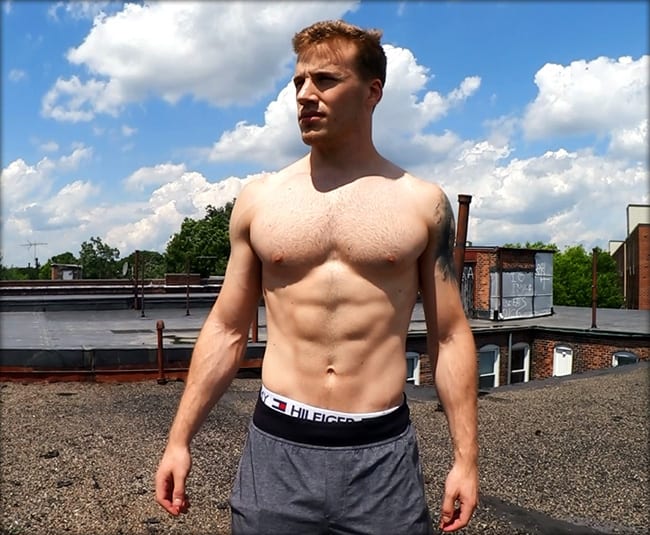 I transformed my body using the same system you'll learn inside
How I "Cracked The Code" to a Simple System That Transformed My Self-Confidence and Drove Me to Crush Bigger and Bigger Goals…
You see – at some point I realized I was on a dead end path. And so I started devouring "self-improvement" books. But that didn't change anything.
I read positive psychology books that preached silly things like the law of attraction and that all you need to do is wish for success – and visualize it every morning at 10AM – to make it happen. Obviously that didn't work.
Some dating books I read even detailed how to position your feet when talking to women… Give me a fucking break! This is simply focusing on all the wrong things.
You see – when you read about hundreds of little techniques it leads to analysis paralysis. You've learned so much new information that you have no idea where to start. IT DOESN'T WORK!
And that's the key – you must actually start. You must take action. One million self-help books and YouTube videos won't do SHIT for you if you don't take action.
I'll Show You How to Develop "Alpha Male" Confidence in 28 Days or Less
It wasn't until I put the books down and started taking action that my confidence started to improve.
I finally decided to begin experimenting with a bunch of different stuff I'd read…
After testing hundreds of different habits and techniques, I found a simple system that was incredibly powerful…
It filled me with a sense of confidence and allowed me to successfully quit my job, start a successful personal training business, transform my body, go on countless dates, find an awesome girlfriend, and even self-publish 7 Amazon best selling books.
By sticking to these 'core' habits, I've come to feel unstoppable. I honestly don't give a fuck about what other people think about me anymore. Now I know how to make myself feel happy. And my fears of rejection and failure have all but disappeared.
Approaching hot women, attempting new business ventures, confronting people when I need to – all things that used to make me tremble in my shoes – don't even phase me anymore.
Learn how to build the confidence to approach women in any situation
Introducing "28 Days To Alpha"…
$30 Value
A Step-By-Step Guide to Implementing a Series of 'Core' Confidence-Building Habits into Your Life in Just 28 Days
28 Days to Alpha is different from other self-improvement books or dating courses because it's focused exclusively on taking action and achieving results.
You won't find a bunch of motivational BS that does nothing to actually improve your confidence or get you results. Instead you get step-by-step instructions on how to change your life in 28 days.
Some of the changes you'll implement into your life include:
How to get rid of neediness and build an abundance mentality
A 2 minute activity to shock your system and boost your testosterone
Rewire your brain to be confident in 5 minutes per day
The secret to having consistently productive days
A simple method to quickly generate quality goals
How to refine these goals so getting started is super easy
How to approach any girl like a boss without hesitating
A quick-fix to transform your sexual confidence
Module 1: Ritual
Learn an empowering morning ritual to quickly supercharge your confidence and motivation every day
Module 2: Mission
Fill your life with a sense of purpose by generating new goals and actually taking action on them
Module 3: Body
Build muscle, burn fat, and improve your posture with this simple bodyweight strength training routine
Module 4: Fear
A simple method to rapidly desensitize yourself from the fears of failure and rejection
$20 Value
Bonus #1:
Beastly Bodyweight Strength Training
A complete fitness routine using only your bodyweight
Fully photographed exercise demonstrations
Beginner and advanced level exercises
Rapidly burn fat and build muscle
Improve your posture and body language
Under 25 minutes per workout and just 3 days per week
Can be done at home or in the gym
$15 Value
Bonus #2:
28 Day Progress Tracker
A sleek Google Workbook to track your progress throughout the course
Interactively complete each and every challenge
Supercharge your productivity and accountability
$10 Value
Bonus #3:
Guided Meditation Audio
A 5-minute MP3 file that guides you through a simple meditation
Instantly assume a confident, motivated, productive mindset
Stop worrying about the future and regretting the past
Total Value = $75…
Limited Time Price = $27
Guys Are Loving 28 Days to Alpha
28 Days to Alpha is a comprehensive, well thought out bootcamp for men who are looking to transform their body and mind. If you're committed to improving your life I'm positive that 28 Days to Alpha will be one of the best investments you make.
SJ
A must buy. 28 Days to Alpha provides a program that is meticulously detailed and well-rounded, enabling men to improve themselves in just about every aspect of life.
Matt Forney
Having met David and seeing how he operates from a place of alpha behavior, I can honestly say he not only talks the talk, but walks the walk. You are in good hands with David De Las Morenas.
Christian McQueen
If you're struggling with self esteem of a lack of confidence and can't seem to make anything stick, look no further than David de las morenas. He'll provide you with the tools and mindset you need for lasting success.
Tim Reiss
Had some ups and downs during the 28 days, but I'm hitting the gym 5 days a week now, eating better, and have a girlfriend to boot! Definitely on the right track. Thanks so much!
Lappy M
I loved the program. Shortly after finishing I met a girl and we've been dating since March of this year.
The workout stuff I thought would be a piece of cake, but eventually, it was obvious I needed to join a gym. I joined a local gym in September and have been going six mornings a week for the past couple months now, I feel and look way better and I know it gives me energy throughout the day. 
Michael R
Frequently Asked Questions
1. What's included in 28 Days to Alpha?
28 Days to Alpha eBook – a PDF Guide to your 28 day confidence-building challenge
Beastly Bodyweight Training – a comprehensive workout routine with photo demonstrations
Guided Meditation Audio – an MP3 file leading you through a simple 5-minute meditation
28 Day Progress Tracker – a Google Workbook to walk you through each day of 28 day challenge
2. Why it's only $27?
If you're thinking "$27 is cheap…what's the catch?" then here are 2 reasons that should put your mind at ease:
1. $27 puts this guide within the reach of as many men as possible (and I want it to reach as many guys as I can).
2. It weeds out the freebie-seekers. I only want to work with guys who want to take action and are serious about taking their lives to the next level.
From my experience charging anything…even if it's just a buck… gets rid of 99% of the jackasses who aren't prepared to actually implement the steps contained in this guide.
3. Is there a guarantee?
Absolutely.
In fact, when you claim your copy of 28 Days to Alpha, you have a full 30 days to decide whether or not you want to keep it.
And if for ANY reason you decide the program doesn't work for you? Simply contact me for a full, prompt refund – no questions asked and no hassles.
4. How long does it take to get access?
You will receive INSTANT digital access to the entire program…
Which means that just MINUTES from right now you could start your 28 days and already be improving your confidence and changing your life.
There's nothing to ship, and you'll have access to the entire program for life.